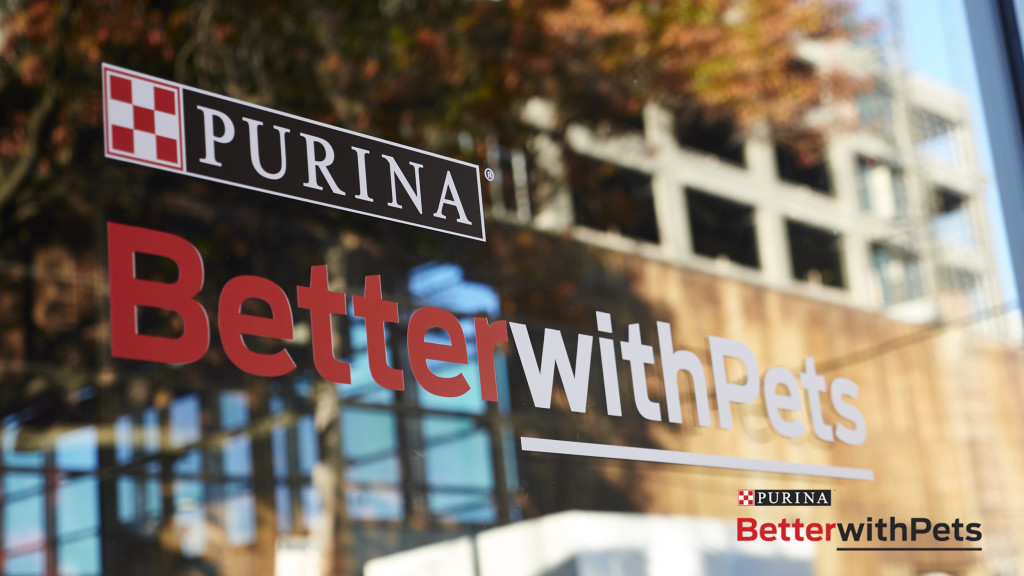 Specifically in their words:
"This year's BWP Summit will center around emotional wellness for pets and people who love them – specifically on how the high quality of life and pet ownership are increasingly becoming more entwined. 
During the panel discussion: "Are Millennial Changing Our Relationship With Cats?", moderator Hal Herzog, a professor of psychology, pointed out that 1 out of 3 Americans now share their homes with cats (he's one of those Americans himself!). And that 31% of Millennials share their homes with a feline. They are living alone, delaying having children but pets are not a replacement for children – they are pat of the family.
Sandra Lyn, a behaviorist at Purina noted that, "….we are seeing shift in who will be the biggest cat population…it used to be the boomers, now it's the Millennials," and given how hyper social their relationships are with their pets (think Instagram, YouTube etc), it will be interest to see what kind of shifts take place.
Miss Lyn was also quick to point out that currently it does not seem we have any research when it comes to the emotional wellness and cognition well-being around felines. And wanted researches to keep in mind that,"…the relationship will only be successful if the cat is getting these out of it as well." She sent on to mention that cats need prediction and control, and that we want to make sure they feel comfortable in their environment.

As an aside, there's a need page on the Better With Pets website that shows how you can make simple modifications to make your home more cat friendly.
Mikel Maria Delgado, a Certified Cat Behavior Consultant stated that she believes, "There's a myth that cats are a low maintenance pet. I really feel that cats give back In proportion to what you give them…." She told an anecdote about how her cat always wants to play on the tablet (iPad) when she's on it, and they sometimes call it the "plastic cat," but that there are times they need to remind themselves to turn off the tablet and give their real cat some attention.
In another interesting panel, "Stress, Our Pets, and Us," moderated by Dr. Marty Becker, the chief veterinary correspondent for the American Humane Society, there was a lot of discussion around how to make sure homes and shelters are as geared to healthy emotional pet welfare as possible.
Tony Huffington, a professional of Veterinary Medicine made several great points as they pertain to our household cats:
They are not doing cat behaviors, as well keep cats like we do zoo animals – in confinement. His emphasis being that we as pet parents need to take charge and make sure to keep our feline's environments stimulating.
The most important enrichment device is a food puzzle. You can't go to a good zoo and not see one. It's called contra freeloading and it makes the animals work for their food. According to Dr Huffington, "it's one of the best things we can do for confined cats."
He brought up an interesting point I had never heard before which is that changing our perfume or the cleaning products we use can greatly impact cats.
We don't want a home that's not barren, but not one that's too chaotic either as cats do not like chaos. For example, they don't like furniture moved around and don't like having a variety of caretakers.
On the same panel Heather Lewis, a principal of an architectural firm that designs veterinary hospitals and animal care facilities since 1979 had several insightful tips that have been implemented in some facilities but can even be used in our homes.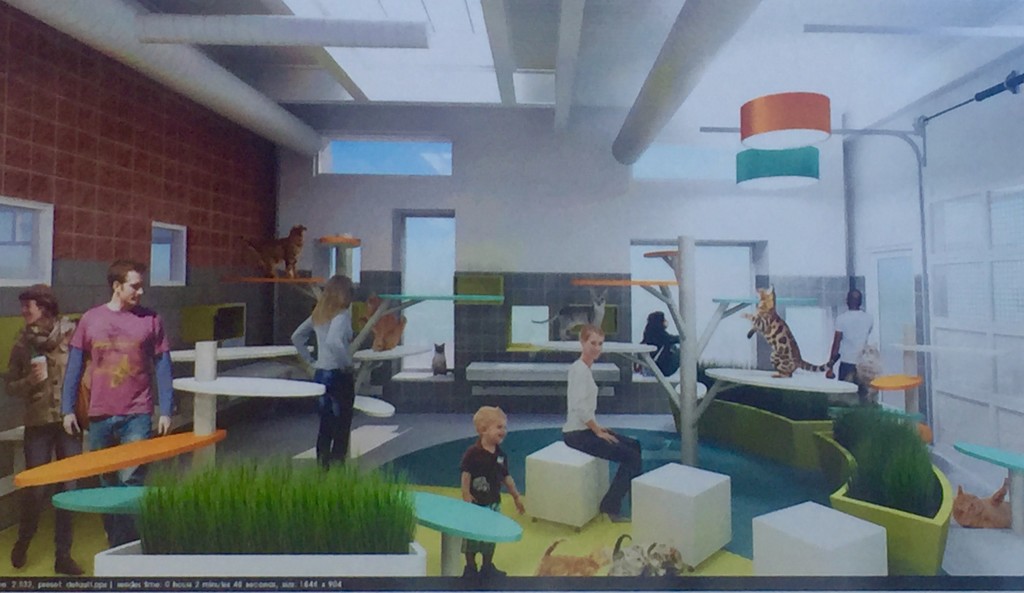 To my chagrin (given my personal color biases), it turns out that studies have now proven that pastel blue, violet and green are colors that are soothing to pets. Just as we can be impacted by loud "noisy" colors in a negative way, our pets can have similar reactions.
Not surprisingly perhaps, people like interacting with cats in a natural way, in a more natural habitat. A shelter in Denver has a room they call "Catlandia" (pictured above), and the cats in this room are literally flying out of there because both the cats and potential adopters are more comfortable.
Those are just some of the things I learned at Nestle Purina's Better With Pets Summit this year I wanted to share with you. By lunchtime my head was swimming with information and it was a good thing we had a room full of cats and kittens to play with along with the infamous Pudge as a way to decompress (be sure to check out my previous post if you haven't already!).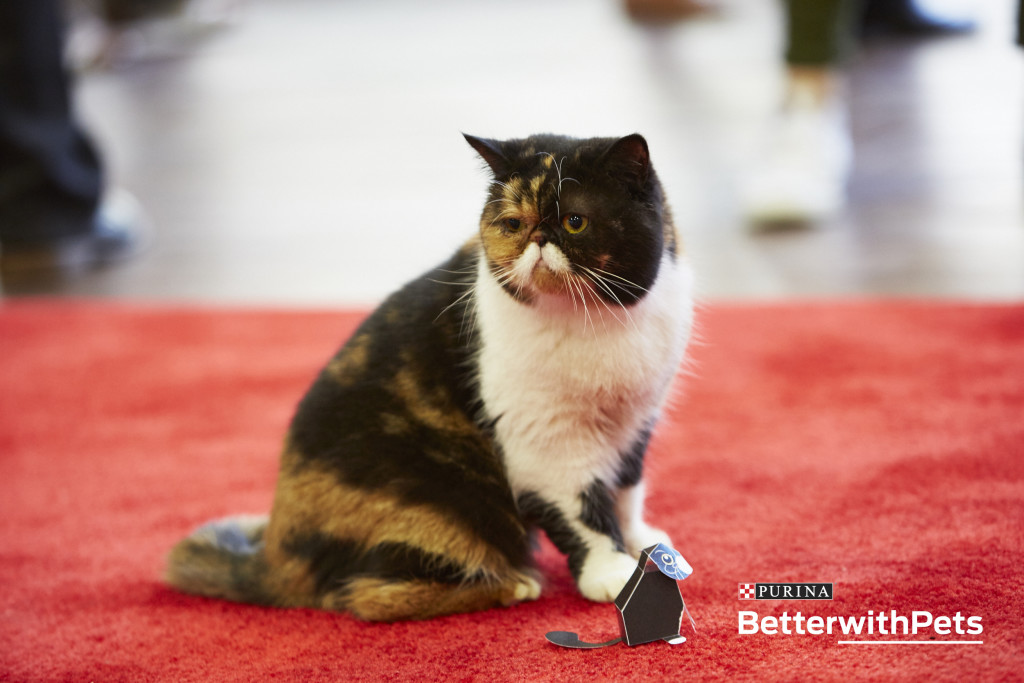 FTC disclaimer – This is a sponsored post and I have been remunerated accordingly. But as   always I only try to post content I believe my audience will find of interest.